WASHINGTON, D.C.— Vermont State Treasurer Beth Pearce, incoming President of the National Association of State Treasurers (NAST), announced today the association's 2018 leadership roster, which includes the appointment of nine state treasurers to NAST Committee Chair positions and six state treasurers to NAST Committee Vice Chair positions. The state treasurers will serve a one-year term beginning on January 1, 2018.
"The state treasurers appointed to NAST's 2018 leadership positions have demonstrated a deep understanding of the financial issues impacting state and local governments across the country," said Treasurer Pearce. "I would like to thank Oklahoma State Treasurer Ken Miller for his outstanding leadership as NAST's 2017 president, and I look forward to working with him and NAST's new Committee Chairs and Vice Chairs to advance our policy priorities on Capitol Hill during the year ahead."
The following state treasurers will serve as NAST's 2018 Committee Chairs and Vice Chairs: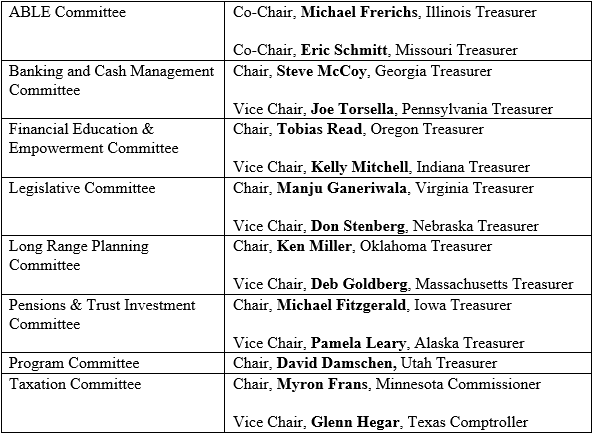 State treasurers are appointed to Committee Chair and Vice Chair positions based on their policy background and expertise. In their role, the incoming group of Committee Chairs and Vice Chairs will help shape NAST's 2018 legislative priorities and platforms and will work closely with NAST's new Executive Committee.
NAST elected its Executive Committee Members during the association's annual conference in Boston in September. The 2018 Executive Committee Members include:

To learn more about NAST's committees and federal policy positions, click here.
###